Ruffwood Brittany Spaniels
Purebred CKC / AKC Brittany Spaniels
Brittany Spaniel Puppies (CKC Registered)
Dual Championship bloodlines
Brittany puppies for Spring 2022 to approved families
With $500 non-refundable deposit
---
Mike & Donna Wilshire, Brittany Breeders in Ontario for over 30 years
Ruffwood Brittanys Perm. Reg'd.
R.R. # 1, Cayuga, Ontario N0A 1E0 (905) 772-7230
(just one hour southwest of Toronto) near Hamilton
Email our Brittany kennel: ruffwood@ruffwoodbrittanys.com

Click here for previous article in Outdoor Canada magazine
with training tips with Mike Wilshire
Ruffwood Brittany Puppies born April 2019 - SOLD
Both parents Show Ch, Field Dog Test titles, OFA CHIC#S

Ch. Ruffwood's Agenda's Islay (Islay), F.D.
Field Dog title,
C.K.C. show championship title
O.F.A. CHIC# health clearances

GCH. Dual Lanes's Triumphant Beretta Storm, F.D.
"Rhett" Brittany with style & intensity on point.
Canadian Grand Champion, and CKC Field Test title
O.F.A. CHIC# health clearances.
---
Ch. Ruffwood's Full of Beans (Beany)
Field Dog Jr. title, ranked #7 in Canada
Derby & US Open Puppy placements
Beany C.K.C. show championship title
Hips certified O.V.C. and O.F.A. Good

Ch. Ruffwood's Own Agenda (Gen)
is a Canadian Show Champion as well
three 3 pt. major show wins in the U.S. #1 Juvenile Field Brittany in U.S. 2009
Michigan Brittany Club Dog of the Year

Ch. Ruffwood's Rustic Hunter, F.D.
Brittany with style & intensity on point.
7 points towards his Canadian Field Championship, Specialty Show winner,
and multiple Field Trial awards.
---
Next available litter to approved families for Spring/Summer 2022 litter.
Please visit our Upcoming Litter Page for more details.
---
Memoriams - Gone but not Forgotten....
We have produced many great Ruffwood Brittanys over the years that have left us.
We pay tribute to them and their owners on our Memoriam Page
Ruffwood Brittanys in the Field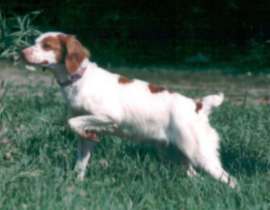 Sally (the Sunny Sensation)
has many US and Canadian Field trial wins.
She was a top producing Brittany Spaniel of many titled puppies.
Hips certified O.V.C. clear
We lost Sally December 23, 2002
but her memory will never leave us.
For information on other Ruffwood Brittanys see our Field Page
Ruffwood Brittanys in the Show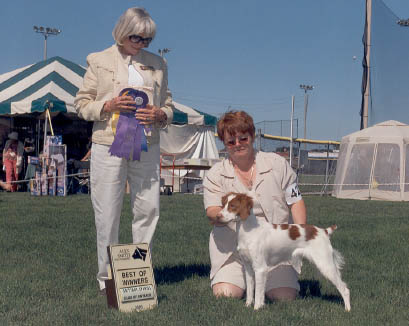 Foxy (Ch. Ruffwood's Foxy Lady, F.D.J.)
Winners Bitch and Best of Winners
at the Brittany Spaniel Club of Ontario
Specialty Show at Bradford, August 11, 2006
We are so proud of her & her owner,
Deb Smelt for showing her herself.
Ch. Ruffwood's Rustic Hunter, F.D.
many field and show wins

U.S./Cdn. Ch. Kor-Upt Silverbirch O'Danaris "Biff",
F.D. Jr.
Hunter is a beautiful Brittany.
By the age of 3 he had already achieved:
his Field Dog Jr. & Field Dog titles,
1st and 2nd place in Open Shooting Dog at
all pointing breed field trials in 2000 and 2001.
He also had his Show Championship title,
and pictured above, and won the 1998
Ontario All Pointing Breed Specialty Show,
including the Field trial Class
over several other pointing breeds.
Hunter is certified hip dysplasia clear
by O.V.C. and O.F.A. GOOD.
For information on previousBrittany puppies
sired by Hunter, see our Brittany Puppy Page


Our rescue Brittany "Biff",
show champion in Canada and the U.S.
Highest Qualifying Score in Field Dog Tests,
hips certified OFA GOOD
Winner of Canadian National Brittany Spaniel Club
Specialty Show Veteran's Class - 1998 B.S.C.C.
Biff was rescued from Illinois with the help
of our good friends, the Schreibers.
For information on previousBrittany puppies
sired by Biff, see our Brittany Puppy Page
#1 Brittany in Obedience in Canada OTCH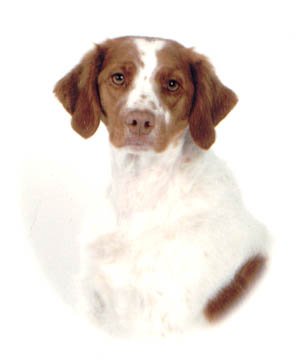 Ranked # 1 Brittany Spaniel in Canada -
Obedience 2004 & 2005
Ranked # 10 Sporting Dog in Canada - Obedience 2004
Brittany, River had many High Score in Class.
River achieved 195.5 at U.S. Brittany Nationals - Congratulations!!
CH & OTCH Ruffwood's Deep River, F.D.
obedience trialed & shown by her owner Dr. Pauline van Veen, DVM
field trained & handled by Mike Wilshire, Ruffwood Brittanys and Field Dog Training
Ruffwood Brittanys are great with children!
Leah playing with Brittany, Sally in the snow
Sally has great temperament
and has produced many show and field
titled pups over the years.

Leah with our Brittany, Ch. Ruffwood's Full of Beans
Beany has his Cdn. Show title,
and he has his F.D. Jr. title
as well as field trial placements

To view more photos of Brittanys and children, please visit our Kids Page Ruffwood Brittanys and Kids Page
Brittanys have great temperament!
Ch. Ruffwood's Mud Slide Slim (above)
3rd generation Ruffwood Brittany breeding,
Slim is a C.K.C. Show Champion
Best Brittany Spaniel at the Ontario All Pointing Breed Specialty Show 2001 and finished 2001 with 3 pt. win at Credit Valley Dog Show
2 - Best of Breeds and 1 - Winners Dog
hips rated Excellent - GDC, OFA & OVC hip certification

Ruffwood's Proud n Sassy, F.D., C.D. cover girl on the Brittanys calendar 2003 and "Miss September".
Ruffwood Brittanys Retrieving
| | | |
| --- | --- | --- |
| | | |
| Brittany has long retrieve with pheasant | Ruffwood Brittany happily retrieving a chukar | Brittany Rev bringing the pheasant in. |

Many of our Brittanys are natural retrievers!
For information on our Ruffwood Bird Dog Training Program see our Bird Dog Training Page
Mike Wilshire got his first Brittany in 1978 and had great success with him. He was a CKC Amateur and Open Field Champion by 3 years of age as well as Show Champion. As Mike continued to acquire more Brittanys, have success with them, and set up a successful breeding program, he became a CKC and AKC approved field judge,CKC Western Ontario Pointing Breed representative, marshalled Ruffed Grouse Society trials, US National Gun Dog Championship, travelled to Michigan, Ohio, Pennsylvania, Arkansas. Wherever there were bird dog activities, he was there! People started asking for his help, and thus began the professional bird dog training. He had many successes and put Field Test titles from FDJ through FDX as well as Cdn and US field trial wins and placements. He has bred US Field Champions as well as the #1 Juvenile Brittany in the US. He has been televised on Angler and Hunter TV, Wild TV, on radio and written up in Outdoor Canada, Ontario Out of Doors magazines and celebrity guests have visited the Game Farm.

For over 20 years he lived on an 85 acre farm in Belwood, Ontario, but moved further south to 150 acres in Cayuga, Ontario in 2010 and set up Ruffwood Game Farm. Now after 40 years, Mike is retiring from training EXCEPT some previous clients and our own Ruffwood Brittany puppies.The Game Farm remains open from September through til the end of April, as well as a venue for club events and seminars in spring/summer months.

Thank you to all clients who have entrusted their dogs to Mike Wilshire over the years.

Mike Wilshire has achieved many high scores and field trial wins with a variety of breeds,
in a gentle manner over the years speaks for itself.

Ruffwood Kennels Perm. Reg'd.
TRAINER
of the
#1,#7, #8, #9, & #10
Field Dog Junior titles
for all Pointing Breeds
in Canada 2000
#3 Field Dog Junior title
in Canada 2003

TRAINER
of the
#10
Field Dog title
for all Pointing Breeds
in Canada 2000

| | |
| --- | --- |
| training a Brittany from horseback for field trials | training a Brittany with checkcord for hunting |
BRITTANY PUPPIES not available until SPRING 2022.
please contact Mike or Donna Wilshire
by email: ruffwood@ruffwoodbrittanys.com
or by phone 905.772.7230
Life Members of the Canadian Kennel Club
Approved Kennel
Approved Judges of the Canadian Kennel Club and American Kennel Club
Dog Clubs and Associations we belong to:
---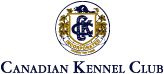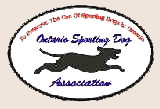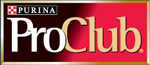 ---
return to top of page

©Ruffwood Design - 2004-2021 All Rights Reserved